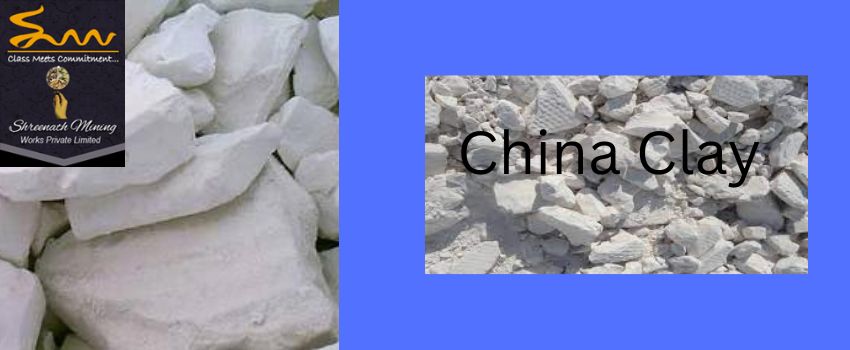 White China clay or Kaolin is extremely adaptable, efficient, and advantageous with a wide range of uses and applications in various industries. Finding superior white China clay suppliers in India is very important. Listed below are the uses of kaolin.
Application of White China Clay
China clay can be used in many different ways. A few of them are:
●
In ceramics

Making ceramics, porcelain, and floor or wall tiles is one of the most common industrial uses of white China clay. Some people refer to kaolin clay due to its use in the production of whiteware and its perfect characteristics for the production of ceramics.

China clay is ideal for producing pure white ceramics, porcelain, sanitary ware, and china clay pottery due to its high fusion temperature and naturally bright white colour.

It is perfect for use in various types of ceramics since it has minimal amounts of iron or alkalis. Manufacturers typically mix kaolin with more silica and feldspar, as well as a small quantity of another kind of clay called ball clay, which is a plastic light-burning clay, for making ceramics and whiteware.

China clay has a high dry strength, which means that as an additive, it aids in strengthening and reinforcing the finished product, which is essential in the production of ceramic pottery.
●
In concrete

Given that silicate minerals are essential for providing concrete with its desired qualities, China clay is a commonly added product to employ in concrete mixtures. Because it may give cement combinations a dazzling white colour, China clay is becoming more and more popular in the building sector.

China clay is a great concrete mix ingredient since it is chemically inert and won't significantly alter the chemical or physical qualities of the mixture. Additionally, it contributes to the strength and longevity of cement or concrete components.
●
In paper manufacturing

Kaolin clay is used in paper and board manufacturing facilities as a pollution and water consumption control agent.

Kaolin aids in making conventional pulp and paper production more economical and environmentally friendly, resulting in cleaner, better-quality pulp and paper.

It fills and coats paper products as particle fillers to enhance their smoothness, gloss, and printability. In addition to making the paper more visually appealing, kaolin can lengthen fibre and increase the goods' general lifetime, toughness, and durability.
●
In fibreglass production

Kaolin is used by fibreglass producers to enhance the quality of their goods, streamline their production methods, lower costs, and boost output.

Fibreglass is kept lightweight and durable by kaolin, which also improves its structure.
●
In manufacturing adhesives

Kaolin is used as a filler and additive in the production of adhesives, sealants, and caulks, just like other industrial goods.

The natural qualities of kaolin make it a valuable component in the production of adhesives, especially its distinct particle size and shape, which enable kaolin minerals to extrude effectively and settle slowly. Kaolin is a great filler since it absorbs little moisture, little oil, and little residue.

In caulks and sealants, kaolin also aids in extending and strengthening the pigments.

Learn more about the uses of china clay by contacting the white China clay manufacturers.